Destinations & Itineraries
YACHT CHARTERS IN TURKEY & GREECE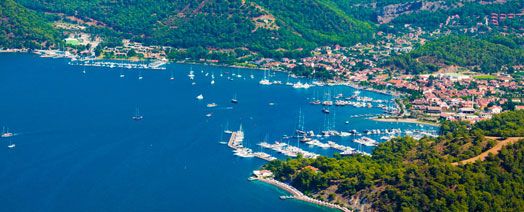 Turkey
Discover the beautiful turquoise costs of Turkey, turkish hospitality, culture and Anatolian history on your own private yacht or traditional turkish gulet.

Greek Islands
Explore the famous Greek Islands offers many picturesque ports, full of natural beauty and historical sites on your own private yacht, Greek caique or Turkish gulet.
Destination Greece
Destination Turkey
Crewed Charter Yachts in Turkey and Greece
YACHT CHARTER TURKEY
The innumerable Greek islands cover a coastline of 15 000 km together with the mainland. The mesmerizing shores offer a myriad of cozy enclaves, which make for convenient natural docks. The power of ancient history looms over these lands. The best yacht charters in Greece are those covering the Dodecanese, Cyclades, Saronic, Argolic, Northern Sporades and Ionian territories. A sailing holiday along the enchanting coasts of Turkey will provide insight into the ancient Lycian, Carian and Greek cultures and lifestyles, tinged with the exotic modern-day flavor of the Orient. Mesmerizing pine mountains rise above beautiful harbors and lucid blue bays. Moreover, this is a fine opportunity to sample Turkish cuisine, one of the best in the world. Sailing trips to the Carian coast, the Ionian coast, and the West and East Lycian coasts are available.
Read More